Our professionals at Rockford Downtown Dental maintain the highest levels of accreditation and pursue ongoing education to stay abreast of the latest trends in dentistry.
Chad L. Conlin, DDS, FAGD: Dentist/Owner
Dr. Conlin is a native of Upstate New York and is a lifetime learner. He settled in Rockford, MI with the intent of practicing comprehensive, patient focused general dentistry. Dr. Conlin completed his undergraduate degree at Olivet Nazarene University and then his Doctorate at SUNY Buffalo School of Dental Medicine. Following completion of his doctorate, Dr. Conlin was accepted into an additional training program at St. Joseph's Hospital and Health Center in Syracuse, New York which he completed in 2007. With the life goal of staying as current and comprehensive in dentistry as possible, Dr. Conlin then pursued on-going training in multiple disciplines of General Dentistry. In 2019, following completion of an additional 500 hours of coursework and board exam, he was recognized with the award of Fellow of the Academy of General Dentistry (FAGD). Dr. Conlin is a proud member of the American Dental Association, Michigan Dental Association, Kent County Dental Association, Academy of General Dentistry as well as additional West Michigan Study Clubs focused on Comprehensive Dental Care and Implant Therapy. The following is a note from Dr. Conlin.
"Dentistry and Medicine are constantly changing. I feel that as a provider it is my duty to stay current with the best practices in the service of those under my care. My team and I are dedicated to making our best efforts to provide for our patients in the same way we would a family member. This means that we want each client to have access to treatment in a setting that is both thorough and caring. We are focused on providing an experience that makes our patient want to refer their friends and family."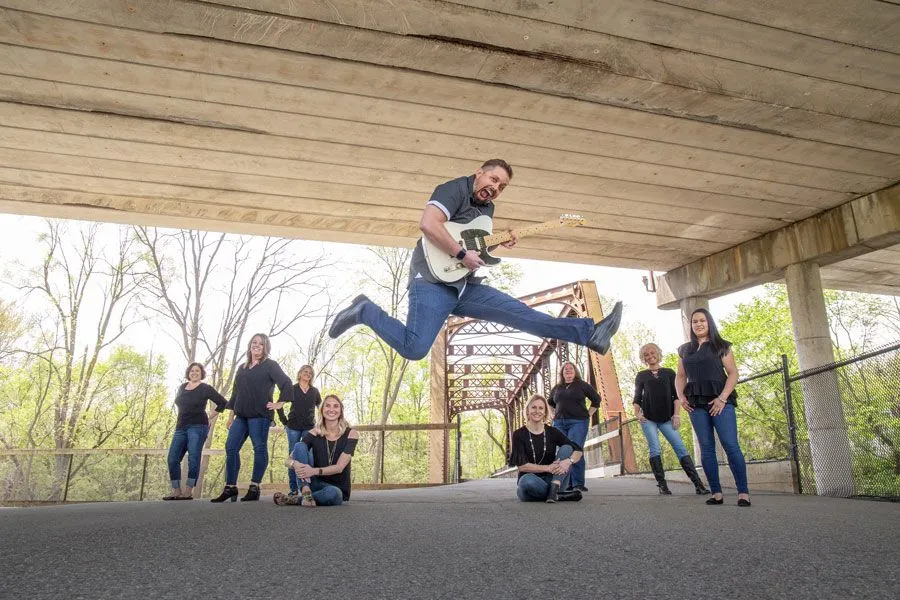 Liz: Registered Dental Hygienist
Liz is a long-term resident of West Michigan. She received her Hygiene Degree right here in Grand Rapids in the early 90's. She then pursued additional certifications in Local Anesthetic and Nitrous Oxide Sedation. Liz has served Rockford Residents in her position here for nearly 3 decades and enjoys the long-term relationships she has formed during that time. When she is not caring for clients in the office, Liz invests her remaining time serving as a mother and wife. Together with her husband they have raised 3 grown children. Liz is always up for an adventure. She is part of several clubs and it is not unusual that she needs to scoot out of work on a weeknight to play in a local volleyball game or tennis match in our warmer months.
Sherry: Registered Dental Hygienist
With more than 15 years practicing dental hygiene in Eastern Michigan, Sherry returned to her home town of Grand Rapids in 2013 with the goal of spending more time with her family. Sherry originally completed her training through Oakland Community College and then pursued her licensing through U of M and Detroit Mercy. Sherry has been practicing dental hygiene for nearly 15 years and is focused on helping her patients understand oral health and the importance of good oral hygiene practices. When not at work, Sherry spends her time with her grown children, grandchildren and takes every opportunity to golf, enjoy the outdoors, watch sunsets on the lake and grab a quick dinner at the local sushi restaurant.
Edith: Registered Dental Assistant
Edith is a native of West Michigan and has been part of the community for most of her life. She completed her degree and registration right here in Grand Rapids and has been serving our clients since 2016. Edith is known to be easy going and personable. She was elected as the team captain for her soccer team in college and our team at RDD can easily understand why. She married her sweetheart in 2017 and together they enjoy many things that Rockford has to offer.
Nikki: Practice Manager, CDA, CDBP
Nikki is a native of Western Michigan. She was raised in Comstock Park but currently resides in Sparta with her husband and 2 children. With over a decade of combined dental experience, Nikki initially obtained licensing in Dental Assisting, and then transitioned into practice management in 2014. Nikki has a passion for the dental field and for quality customer service. She joined Rockford Downtown Dental in early 2019 and functions as the practice manager. When not working to serve you, Nikki enjoys spending her time investing in her husband and children. Together they are a family of avid outdoorsman and spend most summer weekends exploring what Michigan has to offer.
Heidi: Treatment Coordinator
Heidi is a West Michigan native and avid supporter of the "Rockford Ram Pride". She has spent most of her adult life in the customer service industry with nearly 2 decades in the role of a dental administrator. Heidi is at her best when she is able to invest in her clients and build relationships that last. When not serving at Rockford Downtown Dental, Heidi is a mother of 3 and spends much of her personal time traveling with her girls for various dance activities. When the seasons in Michigan allow, Heidi and her family also enjoy many of the outdoor activities that are available in our wonderful area.
Kristin: General Coordinator/Supply Manager
Kristin is a native of Eastern Michigan. Kristin was initially trained in Occupational Therapy and received her degree in 2003 from Eastern Michigan University. Kristin practiced Occupational Therapy with a focus on early intervention (pediatric care) until 2012 when she moved to Rockford, MI. Kristin currently functions in both coordinator role as well as supply manager for the whole Rockford Downtown Dental team. When Kristin is away from the office she invests her time in her role as wife and mother of 2, traveling, and enjoying being outside.
Angelica: Registered Dental Hygienist
Angelica, a native northern Michigander, grew up in the Cadillac area and the completed her hygiene degree at Ferris State University in 2014. Now a resident of Greenville, she enjoys spending time with her husband, Jesse, and their two cats. She also enjoys traveling, staying active with yoga, the occasional trivia night with friends, and trying new restaurants in the Grand Rapids area.